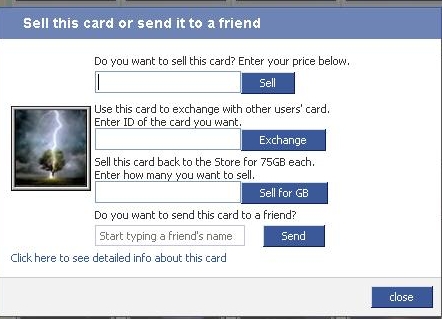 Apart from buying and selling,you can also gift cards to friends.Clicking on a card in your album will bring up this box.Type in the name of the friend you wish to send it to,within the SEND box.You can also send cards to friends by viewing their album.You can only utilize this feature if they don't have the card.Click on their empty space and a pop up box will give you the option to send them that card,it will also tell you how many of that card you have. Of course,you can always use the free sends to send cards.You can also request a card from a friend by clicking on a card in their album and you will get the option to request it.You can also request from your own album,click on an empty space and you will get the option to request from friends.When requesting from your own album,you will be sending notification to all of your trading friends,you need to bear this is mind.When you request from a friend's album,you only send them a notification.
Ad blocker interference detected!
Wikia is a free-to-use site that makes money from advertising. We have a modified experience for viewers using ad blockers

Wikia is not accessible if you've made further modifications. Remove the custom ad blocker rule(s) and the page will load as expected.